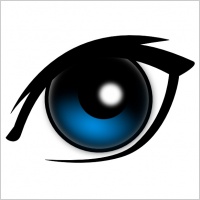 These tips are taken from Beautiful Eyes:The Ultimate Makeup Guide by Rae Morris
*The eyelids can be as oily as the T-zone, which often causes eyeshadow to fade, crease and rub off completely
For correct eye prep that will ensure a long-lasting look:
1. Cleanse eyelids with a water based cleanser (Morris uses alcohol and perfume free baby wipes)
I found a few:
-CVS Cleansing Skin Cream Original: On sale for $2.39 for 16 oz
-Cetaphil Daily Facial Cleanser: $8.39 for 8 oz
-Purpose Gentle Cleansing Wash: $9.99 for 12 oz
-Clinique Exfoliating scrub: $18.50 for 3.4 oz
-
Shiseido 'Pureness' Refreshing
Cleansing Water: $22.00 for 5 oz
-Ahava all in one toning cleanser: $30.00 for 8.5 oz
2. Apply foundation to the eyelids to create a canvas for the eyeshadow (eliminates blue and red tones). This will make sure that your eyeshadows true color is coming through because it won't be distorted by the natural colors on your eyelids.
-I tend to think that an eyelid primer such as Benefit's Stay Don't Stray ($26) can serve the same purpose as a foundation. I own this primer and it doubles as a concealer so it really evens out the eyelid
3. Lightly powder the eyelids with a translucent powder.
-Coty Loose Face Powder: $6.99
-Maybelline Mineral Power Natural Perfecting Finishing Veil: $9.99
-Nuance Selma Hayek Translucent Finishing Powder: $11.99
-Physicians Formula Mineral Face Powder: $13.99
-Makeup Forever Microfinishing powder to go: $15.00
-Bare Essentials Mineral Veil: $20.00
-Laura Mercier Pressed Powder: $30.00
From there apply your makeup and your good to go!