Although I knew I wasn't doing anything special over this recent Thanksgiving break, I wanted to bring home some makeup to have in case something came up. Turns out I barely wore any makeup at all over the 4 days I was home in central New York, which was a really nice break. It's so important to go au naturel sometimes :-) But its always good to have options when your traveling!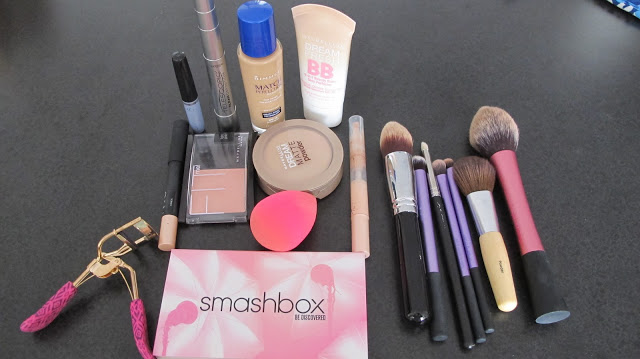 Staples:
The things I won't leave town without are: my Tarte eyelash curler, Maybelline concealer, and L'Oreal mascara. These are the most basic things that I need to have to feel presentable enough to leave the house (ha!)
I also like to bring my Maybelline mattifying powder, this almost qualifies as a staple but its not quite as necessary as the things mentioned above. I use this to set my under-eye concealer and also to reduce oil in my T-zone.
The pink Beauty Blender has been something I have used a ton lately which is why I decided to pack it. I use the tip of it to apply the Maybelline powder under my eyes. I also use it to press powder onto other areas of my face for additional coverage.
I always like to pack a blush in case I apply foundation. I don't feel like blush is necessary if I'm not wearing anything on my face, but after applying foundation I need to add some color to my cheeks. The one I packed is a Maybelline Fit me blush in a really neutral color. Packing neutrals is smart because they are versatile and can be used in any situation that may come up while your out of town.
When it comes to foundation, I often bring one I haven't gotten a lot of use out of. I recently purchased this foundation from Rimmel and decided to take it home with me. I like having a foundation in case I do end up going to dinner or out at night.
I absolutely love my BB cream from Maybelline. I use it a lot when I am running errands or doing anything else during the day and don't want the heavy coverage of a foundation. It evens out your skin but leaves the color so you don't need blush or bronzer.
The pencil looking thing is a NARS eyeshadow crayon. I grabbed this because it is easy to apply, a wearable color and a good traveler (won't crack or crumble if my bag gets dropped).
The object with the black cap is my Covergirl liquid eyeliner. I use this several times a week so I decided I should bring it because it really completes an eye-makeup look. I like that little bit of extra definition it gives so I knew if I ended up going out I would want it.
This Smashbox palette was something I took because I haven't used it in a while. I always like to bring home a palette that has been neglected so I am forced to use it. This particular one turned out not to be the best choice because it contains mostly pastel colors, great for Spring but not so much for Fall. Regardless, palettes are your best bet for travel because they are space efficient and will give you a lot of options.
Lastly is brushes. I packed a foundation brush, a large powder brush and a blush brush. I also included some of my most used eyeshadow brushes. I try to focus on taking only the brushes I think I will need to save space.
Summary tips:
-If you are in a rush or have limited space, make sure to include your absolute staples
-Pack eyeshadow palettes instead of individuals to save space and give you the most variety
-Pack products that are resistant to damage (eyeshadow pencil instead of fragile individual eyeshadow)
-Make sure to include that one product that you feel completes your look (mine is my liquid liner), this way even if you don't have all of your products, you will have what you need to feel put-together.
-Consider packing products you like, but have neglected, bringing them with you will force you to get use out of them.
-Consider packing neutral colors so they are versatile for any situation.
-If you are in a rush or have limited space, pack only the brushes you absolutely need