Easy purple smokey eye!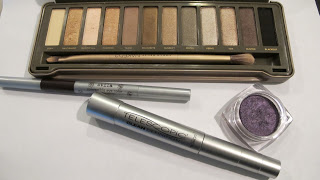 You will need:
A light shimmery pearl/nude color eyeshadow
A purple eyeliner pencil
A purple eyeshadow
Mascara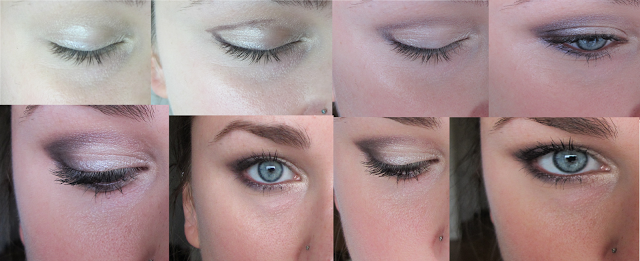 Step 1: Apply a shimmery white, pearl or nude color all over the lid and in the inner corner
Step 2: Take your purple eyeliner and trace a sideways V shape on the outer corner of your eye. Take the top part of the V slightly above your natural crease. Also take this liner underneath the lower lashline
Step 3: Blend the liner, sweeping it towards the inner corner of the eye.
Step 4: Take a purple eyeshadow and fill in that V shape, also trace the purple eyeshadow along the purple eyeliner that you drew in- sweep the purple towards the center of the eye to blend it.Take the purple eyeshadow on the lower lash line as well. A pencil brush is handy for this step.
Step 5: Apply a bit more of the original shimmery eyeshadow to the center of your eye to pick up the light.
Step 6: Apply your purple eyeliner to the lower waterline.
Step 7: Apply mascara.
And your done!
Hope this was useful guys! Sorry the pictures are a big skewed on the "steps" picture-still figuring out how to make it look right. Have a great Sunday! xx