For my EYE brush descriptions click
here!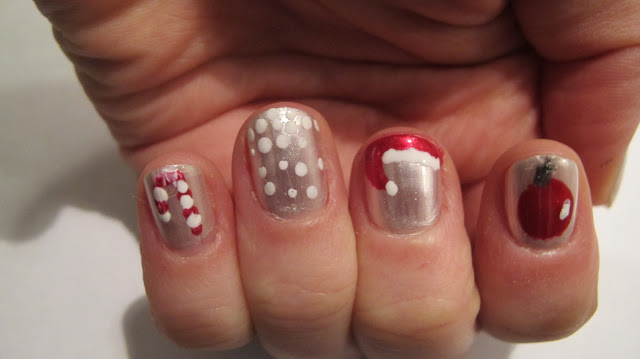 Starting on the left:
1.
RT (Real Techniques) Kabuki brush
: This brush is great for buffing on bronzer or blush. It is short so you have a lot of control and the buffing motion creates a very natural look. This brush also splits down the middle so it becomes a horizontally flat brush. When it is in it's flat form it is great for contouring underneath your cheek bones!
2.
RT Stippling brush
: I typically use this brush with foundation. By using a stippling motion and a circular buffing motion you can achieve a flawless look. The stippling motion (quick tapping) gets the foundation into the pours and results in an airbrushed effect. This brush is also great for cream products such as cream blush, cream bronzer, or cream highlighter.
3.
Sephora double ended powder brush
: This is another brush I use a lot. The end is stiff and compact so I really like using it to apply mattifying pressed powder. By pressing the powder into the skin instead of sweeping it across, it looks a little more natural and doesn't disturb the makeup you already have on. I don't use the other end of the brush often, but when I do I typically use it for blush application.
4.
RT Contour brush
: This brush is the perfect size and shape for creating contour on your face. You can work bronzer into the hollows of your cheek for a chiseled effect and highlighter on the tops of your cheekbones with the same brush to highlight the high points of your face. This brush is extremely soft and I use it all the time, especially for highlighter!
5.
RT Setting brush
: I use this brush every single morning! I use it to apply my Bobbi Brown setting powder over my under eye concealer to keep it in place all day. The thin shape allows you to get right up under the lash line and is much less cumbersome than using a larger powder brush. This brush is also incredibly soft, so it is very gentle on the delicate under eye region.
6.
Sephora Foundation brush
: This is your standard, traditional foundation brush. Strangely enough, this is my least favorite brush to apply foundation with. You can get a lot of coverage using this brush because it smooths and spreads out the foundation v. buffing it into the skin. I find that, although it creates nice coverage, it can make your foundation look a little streaky and less natural. Some people are huge fans of this type of brush and it definitely works better with some foundation than others but is not the brush I typically reach for.
7.
Essence of Beauty blush brush
: This brush is from the drug store but I use it all the time to apply powder blush. It is the perfect size and has a slightly flattened shape, so it is excellent for sweeping color on the apples of your cheeks and up towards your hairline. It isn't as soft as my other brushes, but it has never shed and has held up really well!
8.
RT Blush brush
: Although this is called a blush brush, I haven't used it yet for that purpose. This brush is large and so incredibly soft that I love using it to dust on loose powder. Loose powder is great for setting your foundation and blush and keeping oil production down throughout the day. I would use this brush for just about anything though because it is so luxurious feeling!
9.
RT Expert Face brush
: This is my all-time favorite foundation brush! The brush is very compact so you can really buff the foundation into the skin and get a very natural look. It is on the smaller side, so you have a lot of control and precision. Like all the RT brushes, this one is also very soft and gentle on the skin.
I hope this was helpful! Do you guys have a favorite brush that you absolutely can't live without?? Xx