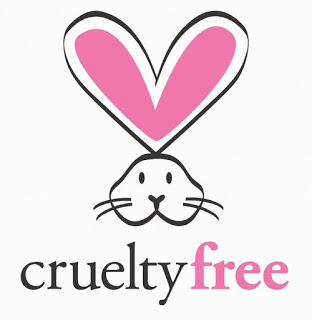 Anyone that knows me knows I am a huge animal lover, to the point of annoyance to a lot of people I'm sure. My boyfriend has gotten to the point where he has to pull me along when a cute dog is up ahead on the street so I don't stop to pet it. Kind of like what he does when we pass a Sale sign at Aldo shoes or a Sephora (no joke)! I rant and rave about the evils of wearing fur and endorse just about every animal cause out there from saving the Tigers to ending the senseless slaughter of elephants for their ivory tusks. So, I thought it appropriate to address the issue of the treatment of animals in the world of beauty and cosmetics. I spent a long time researching this issue and came up with a long list of well-known
companies that do not test on animals. There are a myriad of companies that do not test on animals (namely those that have the word "eco" in the title) that are not included in my list because I stuck to only the brands I recognized, I thought it would be more helpful to the mainstream beauty consumer.I was extremely surprised, happily surprised, at how many companies are completely against animal testing. I was under the impression that most companies still subscribed to the outdated method. What I figured out was that, while many companies have a strict "no testing policy" other, extremely popular brands, take a more surreptitious approach.
An example of a strict "no testing" policy statement:
From Tarte Cosmetics, a very animal friendly brand with many completely vegan products:
Tarte cosmetics is a cruelty-free cosmetics line. Tarte makeup and skincare is never tested on animals.
An example of a sketchy "no testing" policy statement:
From MAC :
The Estée Lauder Companies Inc. is committed to the elimination of animal testing. We are equally committed to consumer health and safety, and bringing to market products that comply with applicable regulations in every country in which our products are sold. We do not conduct animal testing on our products or ingredients, nor ask others to test on our behalf, except when required by law.
MAC is an Estee Lauder company. This sounds all well and good but here is the kicker, "when required by law" refers to products that are sold in China, a country that still legally mandates animal testing on all products sold to the Chinese public. This means that MAC/Estee Lauder products may not be tested on animals here in the United States, but they sell their products to China, who do animal test.
Now on to animal products. This is for vegans who do not wish to use products that come from animals in any capacity. For you guys, here is what to look for:
beeswax (often found in lip products)
carmine (from cochineal or smashed bugs, usually added to red or pink blush-on or lip products)
pearl powder (from clams)
allantoin (from the uric acid of cows/mammals, sometimes added to mineral makeup)
collagen (either from animals or human placenta)
silk powder
elastin (usually found in mascaras; derived from cows)
There are many other products derived from animals, specially in skincare, but the ones above are probably the most common you would see in makeup.
Some big brands that offer vegan options:
-Obsessive Compulsive Cosmetics *fully vegan*
-Sparitual nail polish (via Sephora)
-The New Black nailpolish (via Sephora)
-Josie Maran
-NARS
Keep in mind, most makeup brands offer vegan products just because animal products are not used in some makeup. The ones above are just options, but I encourage you to continue exploring!
A list of well-known brands that do not test on animals:
-Ahava + vegan
-Anastasia Beverly hills
-Ardell
-Aveda
-Bath and Body works
-Bare Escentuals
-Beauty So Clean
-Boscia
-Carol's Daughter
-Clinique*
-Cover FX
-Dermalogica
-ELF cosmetics
-eco tools
-First Aid Beauty
-Hourglass
-Jack Black
-Jane Iredale
-Jesses girl
-Liz Earle
-Lush
-MAC + Estee Lauder*
-Makeup Forever*
-NARS
-NYX
-Orly
-Physicians formula
-Prada
-Pur Minerals
-Skyn Iceland
-Smashbox*
-Stila
-terranova
-Too Faced + vegan
-the body shop
-trish mcevoy
-tropez
-urban decay
-wet and wild

My take: I really commend and respect anyone willing to take on the challenge of leading a vegan or vegetarian lifestyle. I, myself, am not vegan so I don't screen my makeup for animal related products. I also, occasionally, will buy MAC products. It may seem hypocritical coming from an animal lover. I try my best to lead my life with animal welfare in mind and donate to and shed light upon causes when I can and MACs decision to endorse animal testing, even if not in the United States is disappointing However, I am confident that with continued pressure from MAC fans they will eventually, hopefully, commit to a more strict anti-animal testing policy.

Hope this was helpful! Leave any comments or questions below :-)